I had the chance to meet MASSIMILIANO GATTI about a year ago and I was immediately fascinated by his work. His photographs poetically tell the stories of a wounded Orient, radiate the smell of those lands, the warmth of that air weighed down by the sand. I really believe that Massimiliano's glance is endowed with exquisite literary skills.
From a long time he carries out a number of photographic researches about the Middle Eastern territory. He is photographer at the archeological mission in Middle East (2008–2011 in Qatna, Syria and from 2012 in Iraqi Kurdistan in the PARTeN project). This helps him to discover and know better the situation in these territories full of History and stories. His approach is documentary and far away from the reportage, his research spans from the exploration of ancient ruins and past traces, to the observation of the complexity of contemporary reality. He bring forward everything proposing a personal thought.
Here below his answer to my usual question How does Contemporary Art (both in general and yours one) approach, raise, respond and bring to public attention the geopolitical issues? and and the images and descriptions of some of his projects that are particularly significant in relation to the topics covered in this blog.
Last but not least, a great thank you to Pier André Podbielski for introducing me to Massimiliano and to his art.
MG: In my artistic practice there are many cues and reflections in the geopolitical field, I worked for years in the MIDDLE EAST, SYRIA and IRAQ with archaeological missions and I mixed with the reality of those territories. I have had the opportunity to deepen many social and historical aspects that cannot be fully understood from our geographical position. There is a cultural legacy of our Western civilization that blurs our vision, Edward Said called it "Orientalism", an almost paternalistic and superior approach to Middle Eastern societies. I believe that art can bring out important reflections using its own language, that of metaphor. Art does not have the ability to explain, but to raise questions, this is a key element to arouse interest in the public. What I try to do with my work is to tell a very complex and multifaceted reality, the Middle East one, in a "simple" way, using symbols and metaphors, but simplicity is not banality or superficiality, on the contrary it is the result of an elaborate process of synthesis, which digs deep and is also made of responsibility and respect.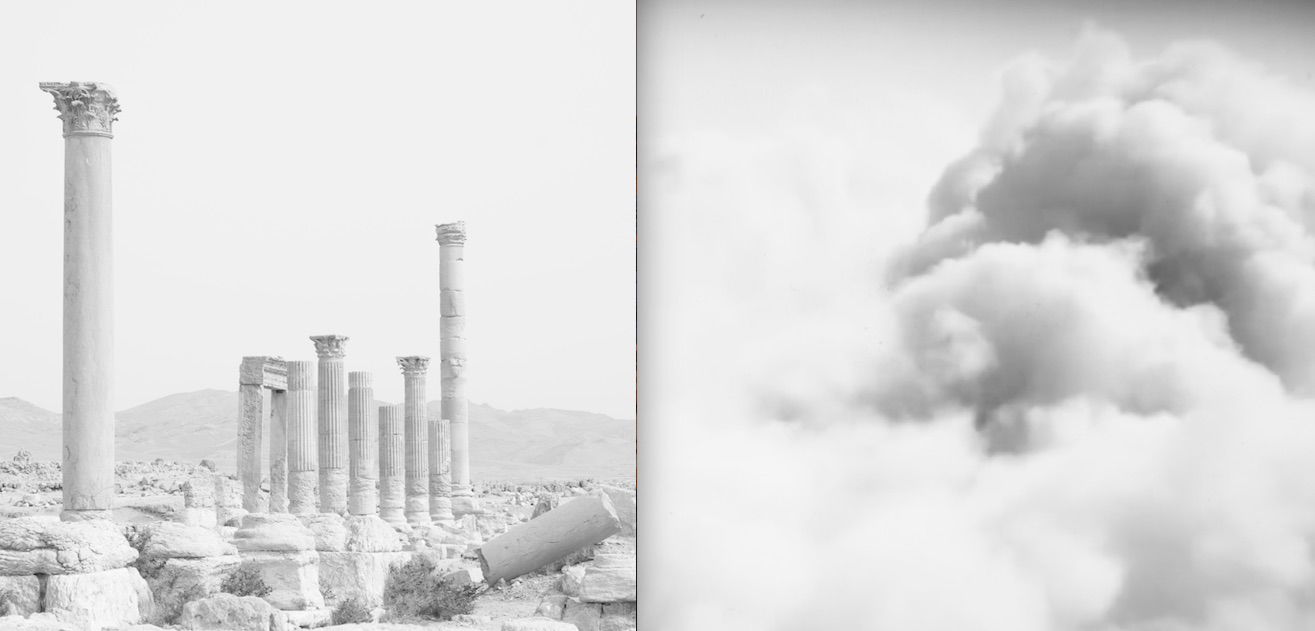 Le nuvole, fine art giclée inkjet print on Photo Rag cotton paper, 50x50 cm, 2019
Le nuvole (Clouds) is a photographic project based on a reflection about the relationship between historical memory and the present, about the actual distribution systems of video contents on Youtube platform. I took images that I shot some years ago in PALMYRA, the Syrian archaeological site that was severely damaged during the occupation of the Islamic State Army during the last few years and some ISIS propaganda video frames in which they documente the destruction of archaeological sites. On the one hand, there are classic images of archaeological photography with strong architectural structures of the ancient city of Palmira. On the other hand, there are images that seem to be simple clouds, but, actually, these images represent smoke-columns that rise after the explosion of archaeological sites or monuments. Le nuvole is the title of a comedy of Aristophanes in which the Clouds are ethereal and impalpable divinities that the Greek playwright associates with the lightness of the thought of the new philosophical streams. With the same attitude, I have matched pictures of columns and imposing architectural structures to the lightness of the clouds of dust rising after the destruction of a monument.
There is also a reflection on the perception of all images and video we can see during our digital and social era: with our devices we can access, at any time and in any location, videos that ISIS publishes on youtube and on the web. There is a large supply chain of the Islamic state that produces propaganda video and publishing freely on youtube channels by circumventing the filters and system security blocks. These are my Nuvole, a form of dangerous, violent and nihilistic thought, but easy and free access that denies the history, memory, the past, and the roots of our culture all over.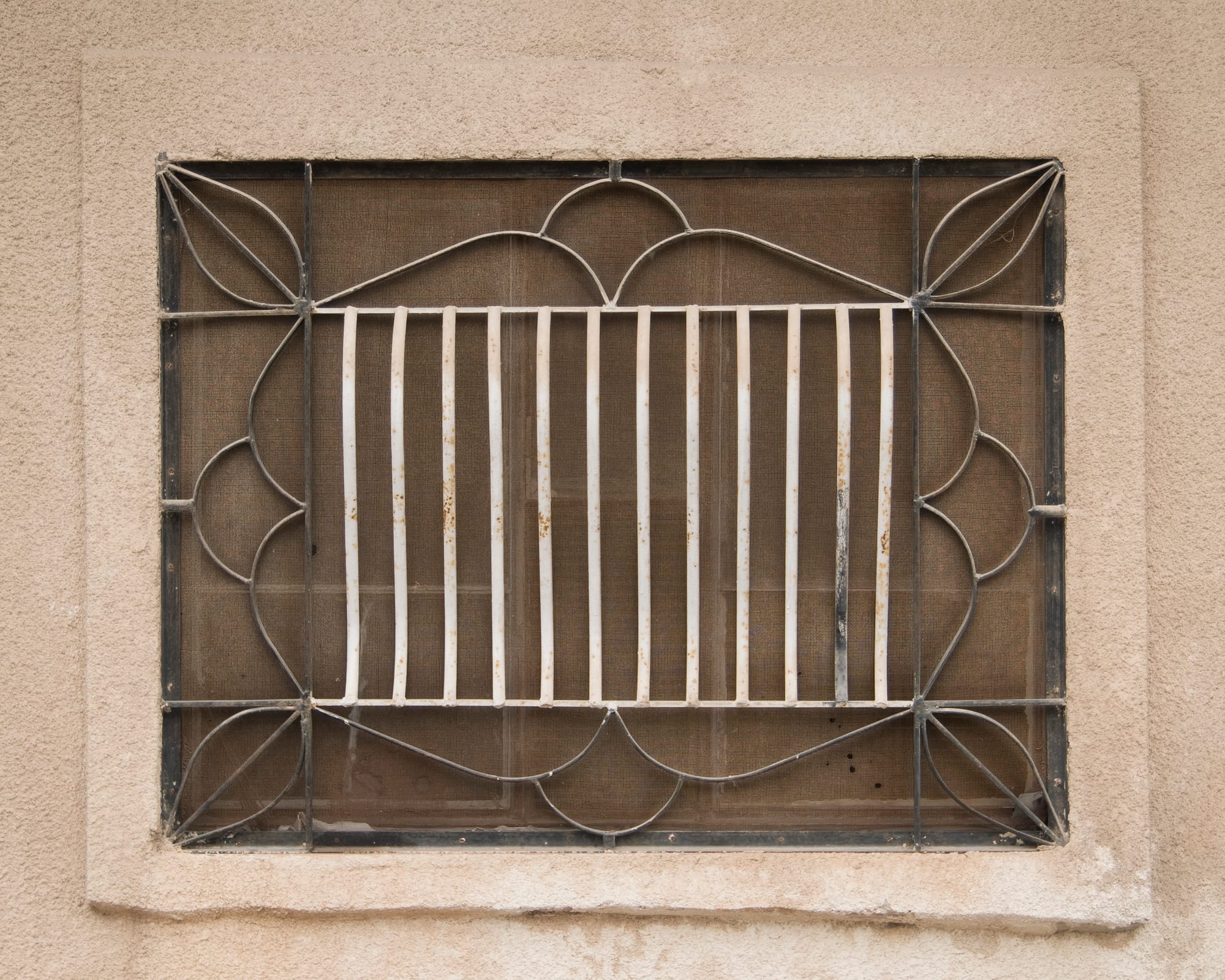 L'invisibile dentro, fine art giclée inkjet print on Photo Rag cotton paper, 60x75 cm, 2011
In SYRIA, the ARAB SPRING MOVEMENT is finding the strong opposition from regime of Damascus. Since months, military weapons has opposing to the street demonstrant. While the egyptian riots in Tahrir Square or the whole war in Libya have been consistently documented by international media, in Syria, journalists and photographers have been kept away from the events and those foreigners were prevented from entering the country. The development of the entire situation in Syria is held on the sidelines for the rest of the world. Only social networks spread information, but they are always fragments of a reality that comes from people directly involved in the clashes. The knowledge of the matter is delegated to entries, posts, tweets, opinions. My work is a personal reflection on the perception of events. The windows are barriers, blocked by a thick metal grate, a filter that separates the outside from the inside.
I searched for a way to represent our perspective on the syrian events, in metaphorical terms, through a window, not open, but filtered through dense mesh. Who's outside can not see clearly what's going on inside, he can only see shadows, hear movements, listen to noises or steal parts of a discussion. The secrecy of the house is guarded jealously and can not be violated by prying eyes.
For me it is an urgency to tell Syria in this particular historical moment, and, for my particular affection to that land, I chose a discreet approach, a delicate look, that, at the same time, can make us reflect on the situation of those populations.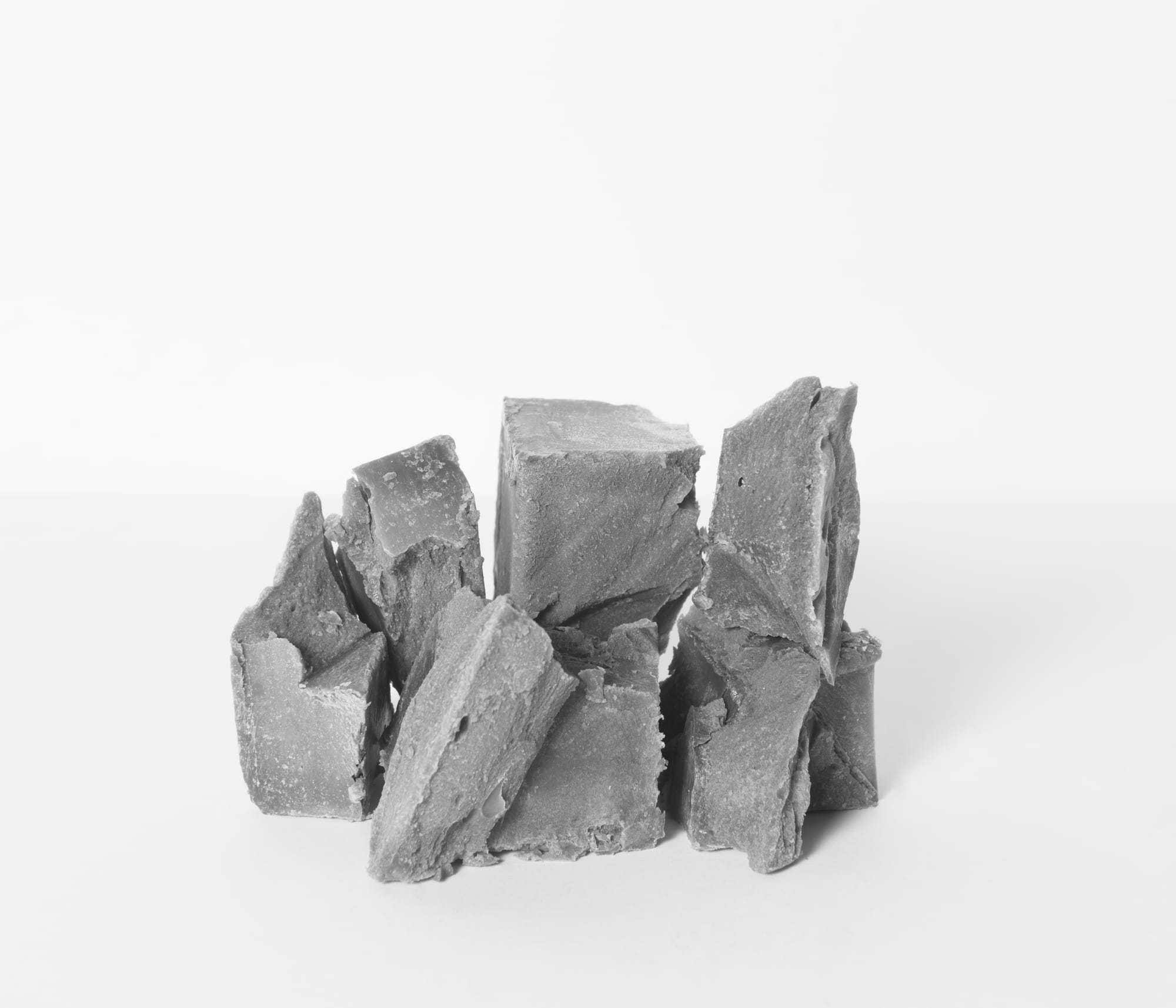 Aleppo è una foglia d'alloro, fine art giclée inkjet print on Photo Rag cotton paper, 30x35 cm, 2018
Aleppo is the theatre of a struggle that has consumed her for years.
Aleppo crumbles.
My soap, an ancient recipe of laurel and olive oil, is the symbol of a rituality built on waiting.
It is a solid, monolithic form that breaks, fragile, into fragments; it is my memory of something that no longer exists.
But time stitches the wounded skin.
Cities fall into ruin and ruins become cities again.
The duplicity of the verse is a duplicity of meaning.
As in history, everything and nothingness merge into an invisible border, to touch each other in one point.
And as in soap, the cycle of life will finally begin again.