While in BEIRUT - after the devastating explosion on August 4 - the clash between anti-government protesters and police continue, I had the pleasure of getting in touch with MARIE-JOE AYOUB, a LEBANESE Visual and Mural ARTIST born and raised in Beirut, who decided to use mural painting and street art as her platform to share her visual voice in environmental and social issues. She has also worked as a mural artist with several NGO's and organizations.
To my usual question 'How does CONTEMPORARY ART approach, raise, respond and bring to public attention the GEOPOLITICAL ISSUES?' Marie-Joe replies:
All I can say is Art is an extremely strong communication tool and can play a major role in igniting change in social, environmental and political issues.
It has even greater power when Art is democratized, painted in the streets, displayed in front of the eyes of many…
You can find here below some of Marie-Joe's projects extrapolated from her portfolio, and the related captions with more details.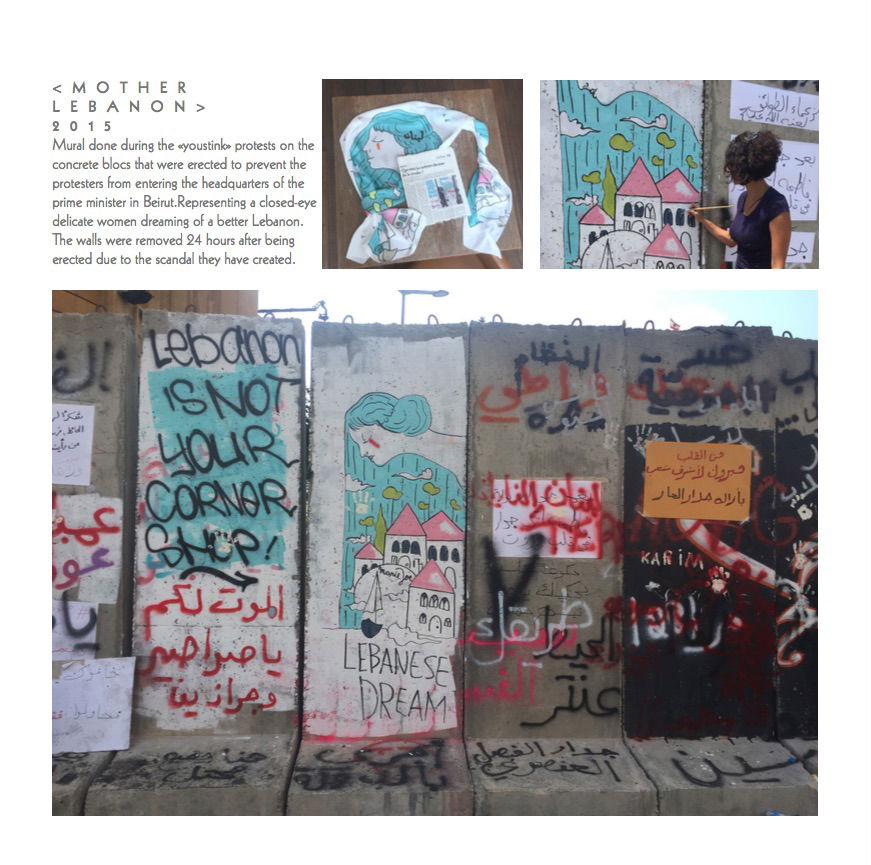 MOTHER LEBANON, 2015
Mural done during the «youstink» protests on the concrete blocs that were erected to prevent the protesters from entering the headquarters of the prime minister in Beirut.Representing a closed-eye delicate women dreaming of a better Lebanon. The walls were removed 24 hours after being erected due to the scandal they have created.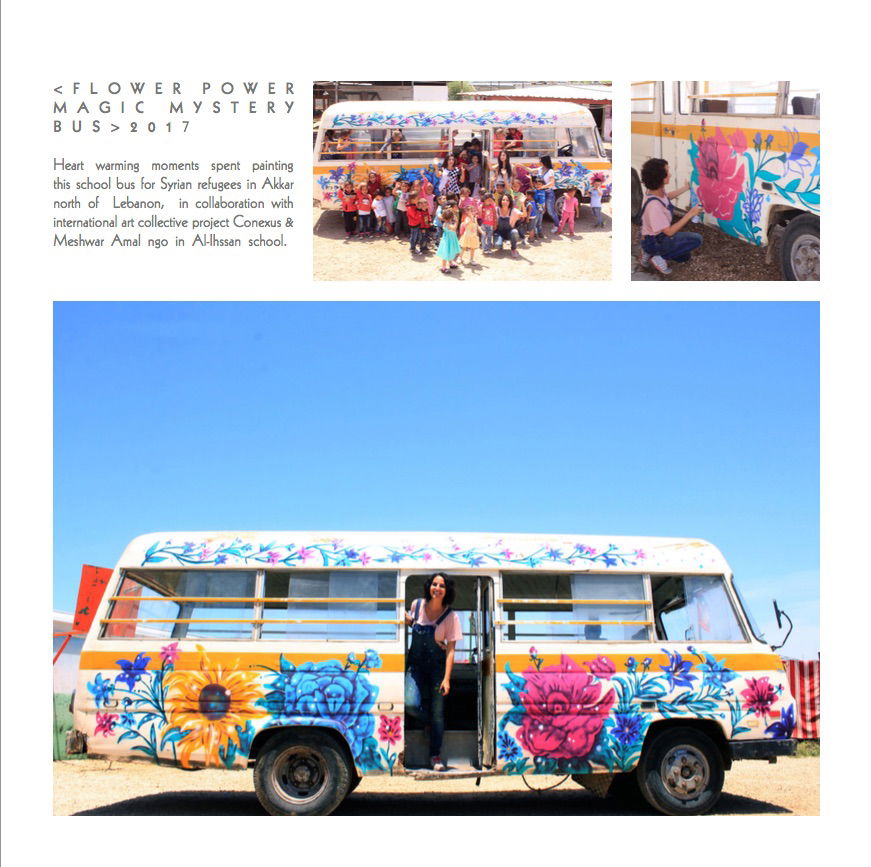 FLOWER POWER MAGIC MYSTERY BUS, 2017
Heart warming moments spent painting this school bus for Syrian refugees in Akkar north of Lebanon, in collaboration with international art collective project Conexus & Meshwar Amal NGO in Al-Ihssan school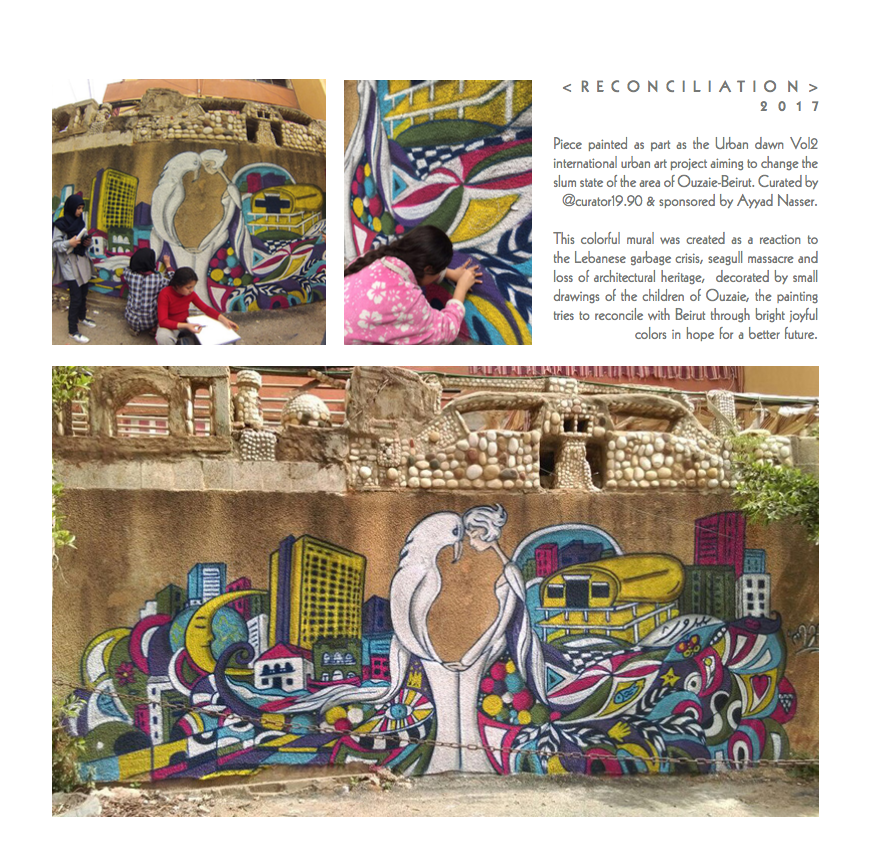 RECONCILIATION, 2017
Piece painted as part as the Urban dawn Vol2 international urban art project aiming to change the slum state of the area of Ouzaie-Beirut. Curated by @curator19.90 & sponsored by Ayyad Nasser. This colorful mural was created as a reaction to the Lebanese garbage crisis, seagull massacre and loss of architectural heritage, decorated by small drawings of the children of Ouzaie, the painting tries to reconcile with Beirut through bright joyful colors in hope for a better future.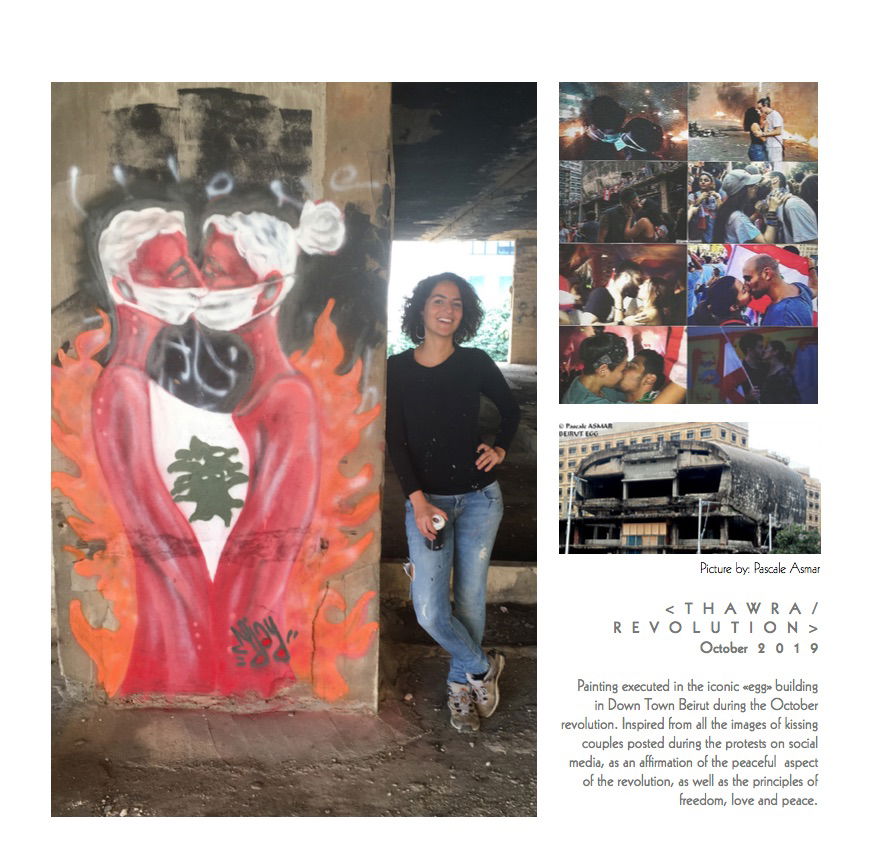 THAWA REVOLUTION, October 2018
Painting executed in the iconic «egg» building in Down Town Beirut during the October revolution. Inspired from all the images of kissing couples posted during the protests on social media, as an affirmation of the peaceful aspect of the revolution, as well as the principles of freedom, love and peace.